Atomos announced today at CES 2019 that the Atomos Ninja V monitor/recorder will work with RAW video output and capture from Nikon's full frame mirrorless cameras. The Nikon Z 7 and Z 6 full-frame mirrorless cameras will work together with the Atomos Ninja V 4K HDR monitor/recorder to record Apple's ProRes RAW video format.
Atomos said the partnership is meant to support the content creation needs of today's video makers looking to add that elusive cinematic quality to their work, whether that be on social media, YouTube or on TV. Until now, says Atomos, RAW video has been limited to dedicated cinema cameras that are either limited in features or priced far beyond the reach of most consumers. The new feature says Atomos, gives content creators the same quality and flexibility in video that they have come to expect from RAW photos.
The upcoming feature is on display in the Nikon booth (#14006) during the CES 2019 show.
Capturing Apple ProRes RAW video with the Ninja V unlocks control of the video image at the highest quality possible. The maximum dynamic range, colour accuracy and detail are preserved, while at the same time every aspect of the video image can be controlled with precision. Colours can be easily matched and the extra information means footage can be easily be manipulated in post-production, which is especially useful for grading and VFX shots.
Atomos and Nikon Inc. are offering video creators the new Z 6 Filmmaker's kit too – also announced at CES. The full-frame Nikon Z 6 camera is the video production equipment at the centre of the kit. Paired with the Atomos Ninja V monitor/recorder and other accessories, it has everything required for professional video shooting and beautiful photographs. The combination can currently shoot brilliant full-frame video in 10-bit 422 ProRes and DNx professional video formats, with ProRes RAW to be added.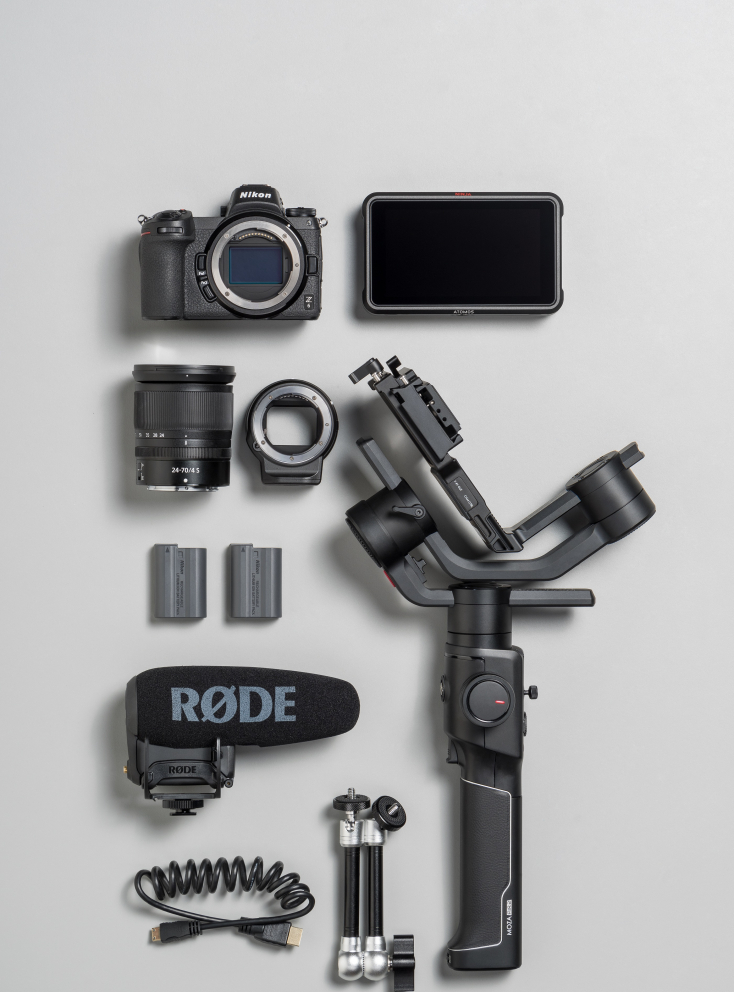 Above: Z 6 Filmmaker's kit
Atomos CEO Jeromy Young said: "It's a really exciting time for high-quality cinematic video on every platform from Facebook to Netflix. Our customers are increasingly making their livings creating this content and we love giving them the affordable tools they need to do it. Our $695 Ninja V delivers better image quality without sacrificing amazing features like autofocus and high megapixel stills. Through partnering with great companies like Nikon, we have built solutions that are easy to use and look great."
How it works: The camera outputs a stream of RAW data via a 4K HDMI cable to the Ninja V. This data is then repacked into the ProRes RAW format and recorded to a removable SSD drive in the Ninja V. When shooting is finished, the drive is removed and connected to a computer via USB. Footage can then be decoded (debayered) and edited in the highest possible quality. Using ProRes RAW format keeps file sizes manageable, easy to edit and future-proof.
Atomos added that additional details, including the release timing, will be shared at a later date.
Atomos' Ninja V is a recorder with a touchscreen-controlled 5" HDR monitor that allows the user to accurately expose and deliver cinematic quality from Log or RAW video. The Ninja V runs Atomos' own AtomOS operating system and a series of modules allow for multi-camera sync, control and ethernet-based video transmission capabilities in the near future. The Ninja V costs $695 before local taxes and is available from all authorised Atomos dealers.